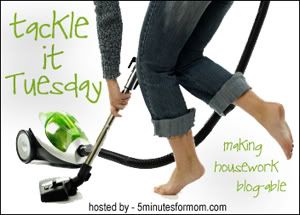 Today's list is kind of overwhelming! I have several projects and lots of cleaning to do before I host a jewelry party here Thursday night.
I moved a little bookshelf into our kitchen to hold our daily homeschool stuff, and I am going to put a little curtain on it to cover all the stuff.
I also need to mop my kitchen and entry way, clean the guest bathroom, and do some laundry.
Another fun project on my list is to hang my new 3 tier fruit basket that I got at a yard sale this weekend for a quarter!! I have spray painted it, and am going to put towels, wash rags, and hand soaps in it. It will got in the guest bathroom. Hopefully it will turn out cute. I'll post pics.
And, lastly, one more fun project! I am participating in My Favorite Things Swap hosted by Kelly at According to Kelly. This is my first time, but it looks like loads of fun! I don't know if my partner will know who I am before she gets my box, so I'm not going to give the details, but I am sewing something for her. SO...I want to get it all planned out. I also need to decide what else I'm going to put in my box. Want to join in the fun? Head over to Kelly's blog and sign up by this Friday!