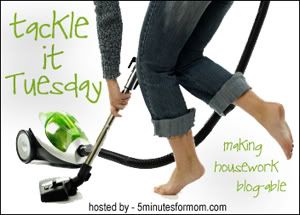 Today's Tackle it Tuesday for me is to match my coupons to the sales at my stores and plan my menus and shopping list. I love couponmom.com, but they don't show sales for my two local grocery stores. So, I am going to have to do it myself. Hopefully I can save big and not lose my mind in the process! I would also like to use some stuff I have in my pantry and freezer too.
Yesterday, I was busy in the kitchen cleaning out my refrigerator. It was in desperate need! So, now I will have room for my shopping trip tomorrow. Now, if I can get to my pantry today, I'll have two tackle its!
Check out what everyone else is tackling at
Tackle it Tuesday at 5 Minutes for Mom
!